How lucky can we be? Two new slot games from two of our favourite slot providers – but with a shared theme! Both are based on the creepy horror novel, "The Phantom Of The Opera", written by Gaston Leroux in 1910, which in turn inspired the 1986 West End musical by Andrew Lloyd Webber. As you'd expect, the action of each takes place in an opera theatre where they share similar symbols such as roses, chandeliers and images of the characters from the plot, but what sort of gaming experience can we look forward to? When we play online slots, we want variety, but are these two games different enough to keep us entertained?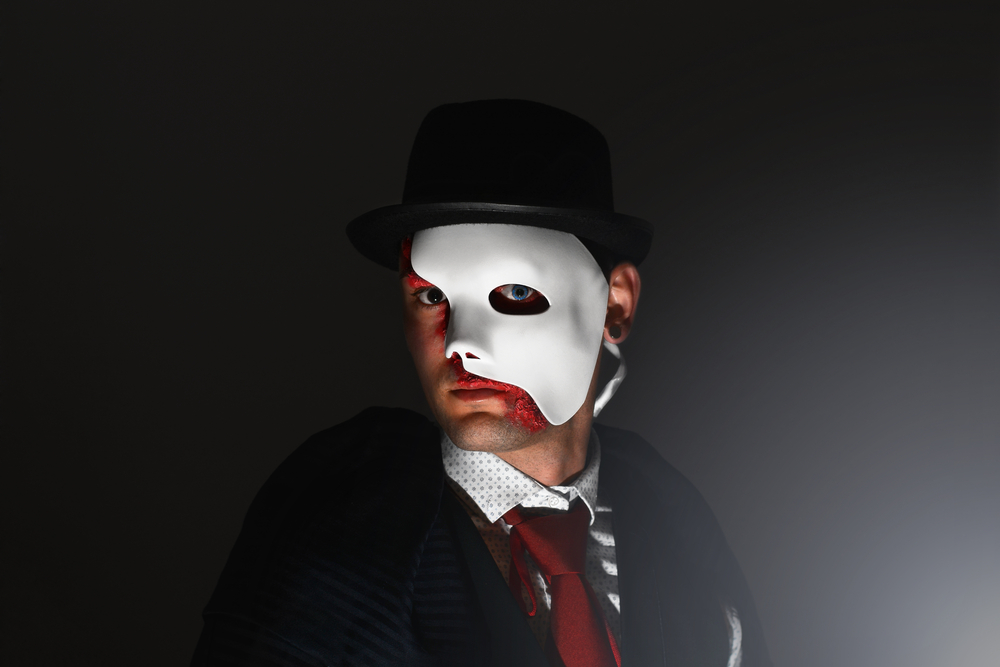 Playing "Universal Monsters" The Phantom's Curse in UK Casinos
NetENT, responsible for some of the best slot games like Fruit Shop and The Search For Atlantis, finally launched their version in January 2018 after a six month delay while they renamed their game to avoid confusion with that of their rivals, Microgaming. With bright, smoothly running animations and excellent sound effects, the game is packed with bonuses, free spins and wilds. One striking feature is landing the chandelier symbol in reels one, three or five, which earns you continuous free spins. The chandelier is suspended over the opera theatre by five ropes which are attached to each of the reels. NetENT manage to convey a sense of creepy suspense here, because every time the Phantom appears, the corresponding rope is cut through with a knife and once all five are severed, your free spins come to an end. Just like Christine, the heroine of the story, you dread the Phantom turning up! To compensate, as the masked symbols stack up, they trigger a Sticky Wild with the chance to win your bet eight hundred times over. The two stage Pick And Click Bonus Game gives you the choice of finding coins beneath roses or mirrors which can be multiplied to a total of 7,200 coins.
Playing The Phantom Of The Opera in UK Casinos
Microgaming, slot providers of Jurassic World and Hades amongst others, have created sophisticated graphics that are accompanied by the songs from Andrew Lloyd Webber's musical. If you land three mask symbols, you're rewarded with an Ask Me Bonus where you choose one of three bonuses based on the songs. Music Of The Night, All I Ask Of You and Masquerade, all give you free spins that multiply up to three or four times your stake to win smaller cash prizes. Masquerade is particularly interesting as it has three different levels where you choose from a variety of mask symbols that are hiding instant cash prizes and on the highest level, the chance to win a much larger jackpot. Wilds and scatter symbols add to the fun. When a Letter lands in reel five for instance, it randomly brings a bonus of up to twenty times your bet.
Differences Between The Two Phantom Slot Games
Phantom's Curse takes bets from 20p to £200 a spin and has 40 betting lines. It has a Return To Player rate of 96.57% and is a low to medium volatility slots game which means you can be sure of landing a steady flow of smaller wins to keep you sufficiently entertained. The huge jackpots, up to a maximum of 800 times your bet, don't appear too often. Phantom Of The Opera has 243 winning combinations across the five reels. As a medium volatility slots game with a house edge of around 4%, you can be reasonably confident of winning plenty of smaller cash prizes interspersed with an occasional large win to keep the game unpredictable and exciting. The maximum pay-out is £116,000.
Two Of The Best Slot Games In One Single Theme
Microgaming's version is obviously going to be popular with fans of the musical who can enjoy listening to their favourite songs while earning extra spins and prizes, while NetENT's Phantom's Curse still has an entertaining soundtrack, high quality graphics and the opportunity of earning frequent wins. Both versions might share the same horror theme, but each has so many distinctly different bonuses and free spin features that they can only be seen as slots games in their own right. Which leaves us with the thrilling option of playing not one, but two of the best slots games to appear in recent times.